short guide to Santorini
 Santorini: this island is very particular from all the rest of Cycladic islands around.
In Santorini, there are 2 opposite landscapes.
The first:  Inside the volcano caldera ( high rocks, dry, deep sea, no beaches) and opposite
The second:  Smooth slopes, fields, vineyards, sandy beaches.
From spring until Autumn , thousand tourists are coming to this incredible place and especially in Oia and Fira (very high on the edge of the long cliff)
So is difficult to stay apart and have quiet and have nice holidays away from crowds.
For this reason, it is better to have accommodation some distance away. Take a look at our proposal away from the crowds:Real Santorini, Cave House – far from the crowds – book directly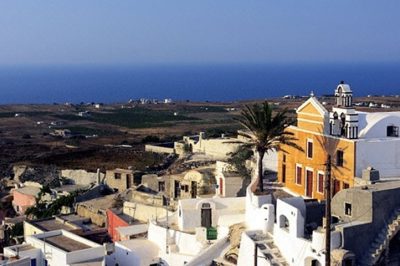 Don't go for Sunset  in Oia village! Everybody rush at the same time for it.  Masses of tourists,  noisy, crowds to run up and down!  Instead, you can enjoy the same  view , more romantic and lonely if you go  on the terrace of  MATRONA church  , at  FINIKIA  village  , 1.5 kms from Oia.
The best way to discover Santorini!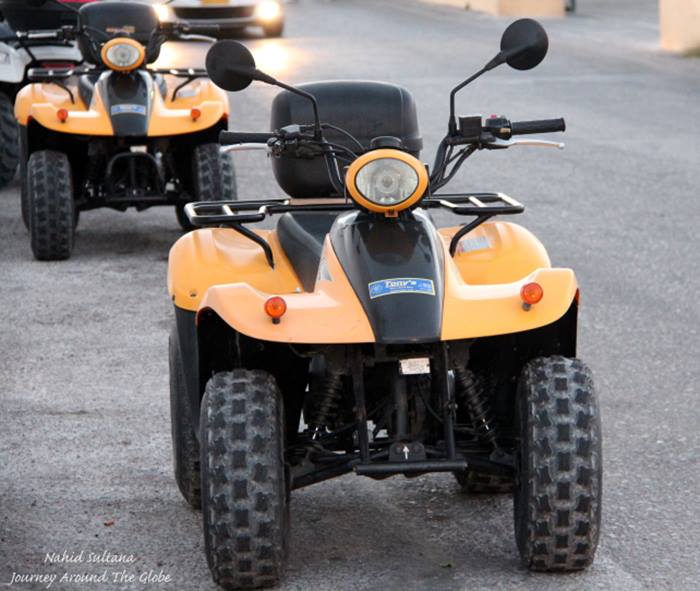 In Greece is called "Gourouna" (Pork) and you can Rent everywhere on the island .
Beaches
Due to sharp rocks and the level up of all villages, in the interior of the caldera in Santorini there are no beaches.
Beaches are all around at exterior part of the island and the distances between 3-10 km. (You can rent a car in the village or scooter with 3 or 4 wheels).
North part of the Island and close to Oia or Foinikia villages, you will find beach Columbo
and following the coast ,some more smaller ones providing some privacy.
note: Avoid when North summer winds are strong ! and look another place (probably in the South part of the Island.
Mid part
On the East part of FIRA (the capital) and close to the airport , you will find Monolithos beach and Kamari.
South part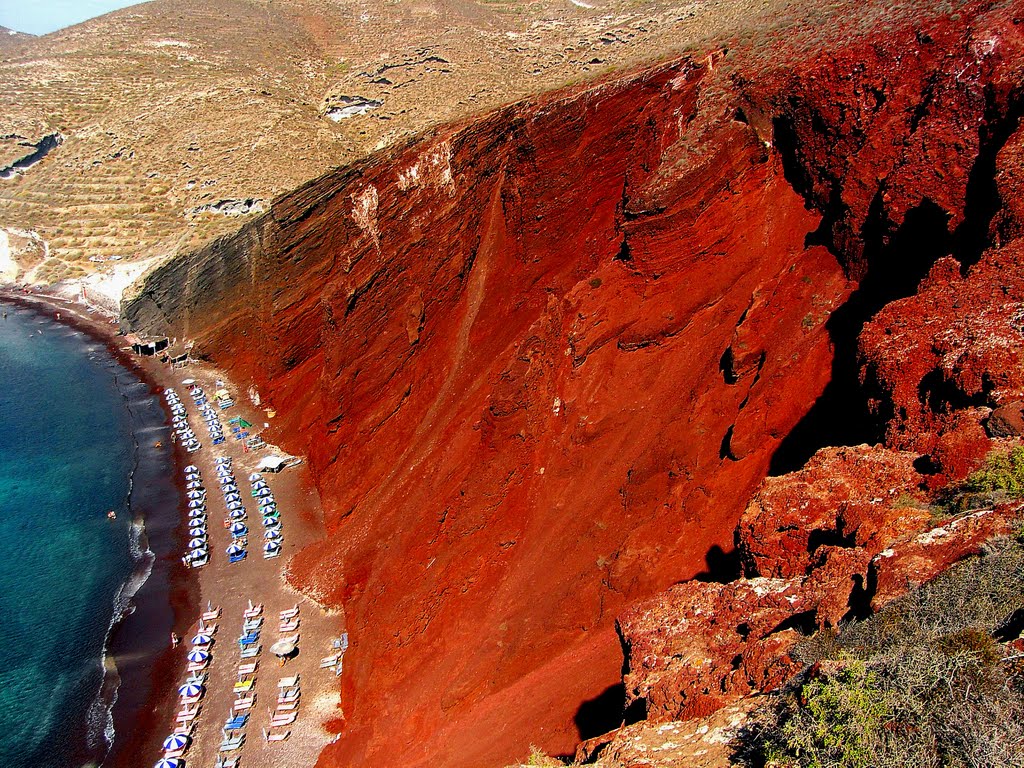 Red beach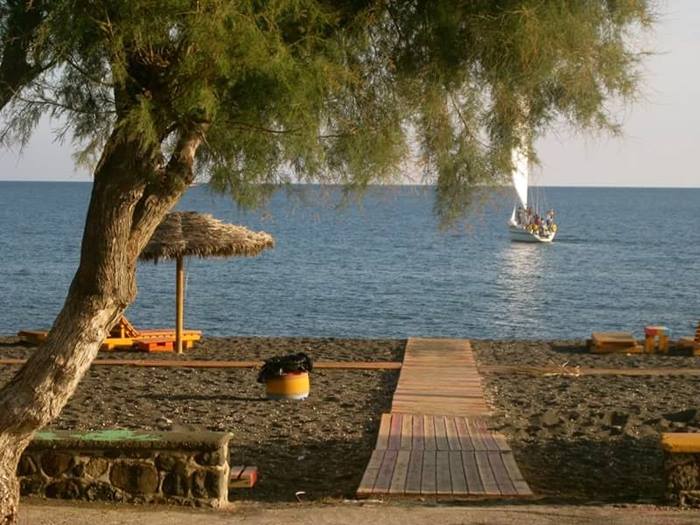 Perivolos beach
Probably the most protected from North winds and waves , are : Perivolos, Vlychada, and the famous Red and White beaches.
A secret beach
One of  very few small beach inside the caldera, is ATHERMI beach,  accessible by a path that starts from   MEGALOHORI ,).
Like the neighboring beach Loutra (Baths) Plakas, has hot springs, but without any facilities.
It is a quiet beach for those who want to enjoy the wild beauty of the Caldera and enjoy swimming overlooking the volcano.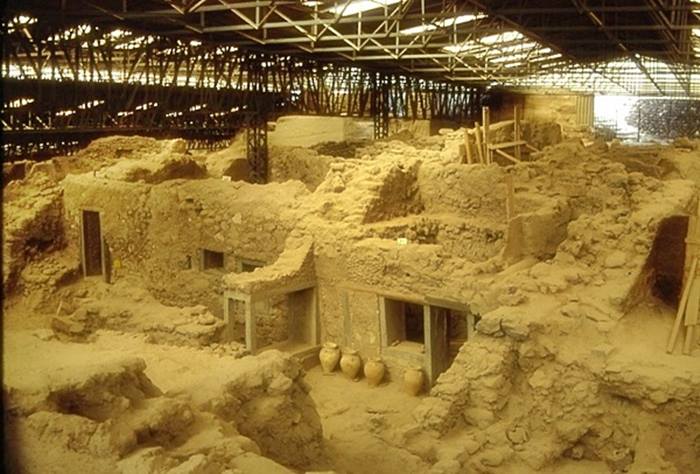 Ancient cities:
The ruins of Ancient Thira at Akrotiri are remarkable remnants of the Minoan civilisation prior the volcano eruption.Excavations revealed an entire city, complete with squares, streets and buildings, some with three-storeys high, and within pottery, cooking utensils, artwork- including some extremely well-preserved frescoes.


Santorini walks and trails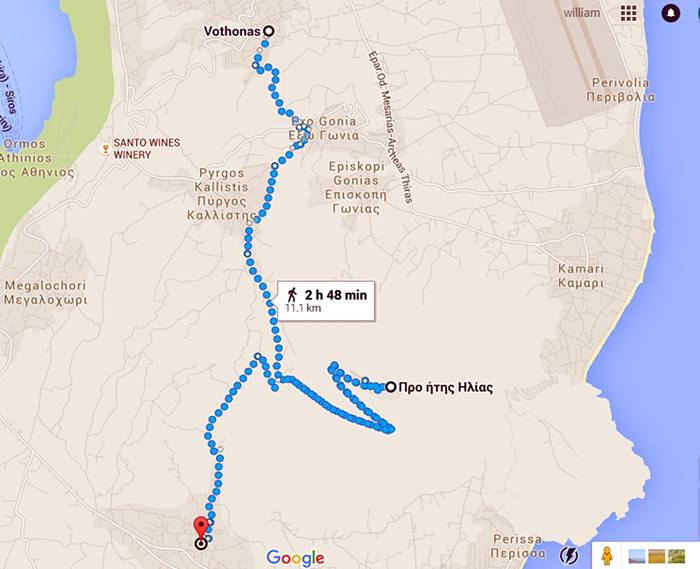 One of most exciting walks in Santorini's country side is a trail from village PYRGOS passing through VOTHONAS to end at EMPORIO village. beach. takes about 3 hours(10 kms)(actual walking time) and ends at the bus stop on the road EMPORIO-FIRA (the capital).
instructions:
start at 9-10 in the morning ,take a taxi or the Bus to VOTHONAS .. Once there go to Blue dome church where starts the walk.You continue upwards to Pyrgos village , passe through magnificents paths ,old churches, spare fields to end at the very top of the island , in the monastery of Profitis Ilias (at 570 meters) . From there ,the whole island lays on your feet, you get a global view of caldera and volcano at left, Aegean sea at right ,and all rest of islands surrounding Santorini .
NOTE: Monastery gate of Profitis Ilias close between 1pm and 5pm (lunch)
Santorini's Wine routes
Among very few things that Santorini's volcano soil can produce , a dominant role is wine . For this reason most of free land is covered by vineyards.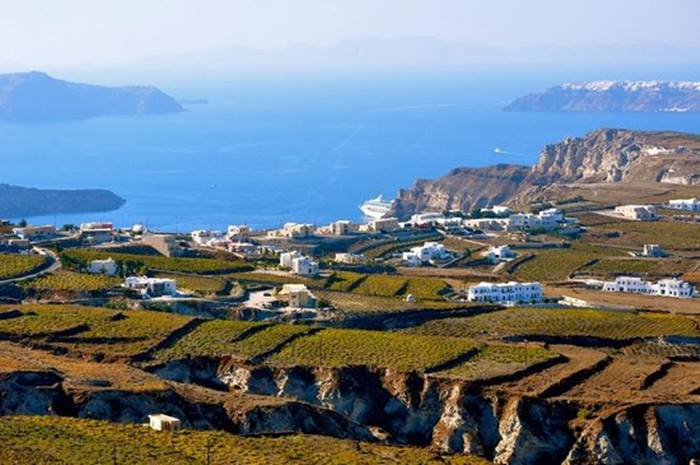 Two main varieties of  grapes are culrivated :
Assyrtico  ( White ,rich aromas of citrus fruit, intense mineral accent ,  refreshing)
Athiri  :    A white wine variety , Athiri is one of the most ancient of Greek grape varieties. Dry wine , pleasant yet discrete floral and fruity.
Vinsanto:  World famous from ancient times  wine , made from   grapes  of  Assyrtico , Athiri and  Aidani varieties,  that have been dried in the sun for  1-2 weeks . They are then crushed and let to fermentation and then aged for a minimum of 24 months in oak barrels.  So balance the high sugar content to produce an extremely palatable drink that can be paired with a variety of foods.
Especially in the Venetian empire, predominantly in the eastern Mediterranean, it was a unique product of Santorini which could travel on ships for a long time without losing quality and taste. The name refers to the Italian (holy wine) but the vinsanto Santorini has its own brand name  exclusive and unique.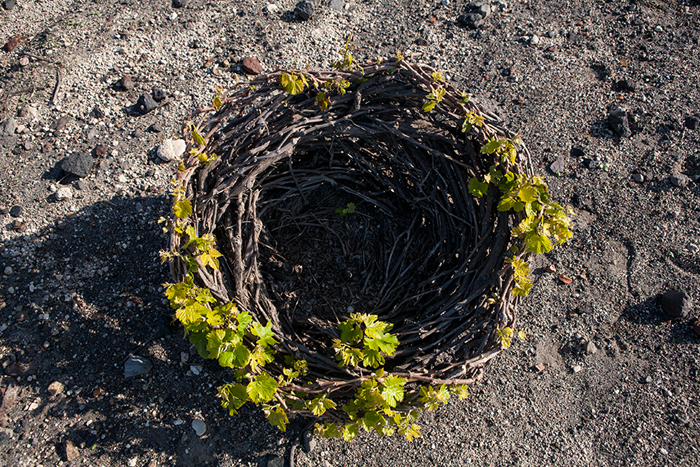 The wine-trail: Vineyards and wine-tasting
Vineyards and wineries are scattered across the island. Cultivation of the vines has been adapted to the arid climate, in a unique way ! Due to strong winds of Aegean sea , winemakers leave the trunks of the vine to grow long and turn them around to form at the end a basket where at the end leave to grow the grapes.
Individual & group visits  to wineries  :
In North part of the Island , near villages of Oia and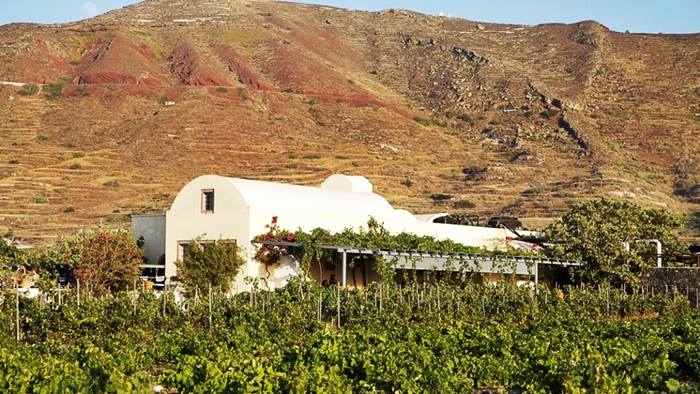 Foinikia :    Domaine Sigalas
In the  center of the Island  village of Messaria  – near VOTHONAS village , there is a wine museum Koutsoyannopoulos Winery .
In the south, the village of Megalohori ATHINIO near the commercial port.
et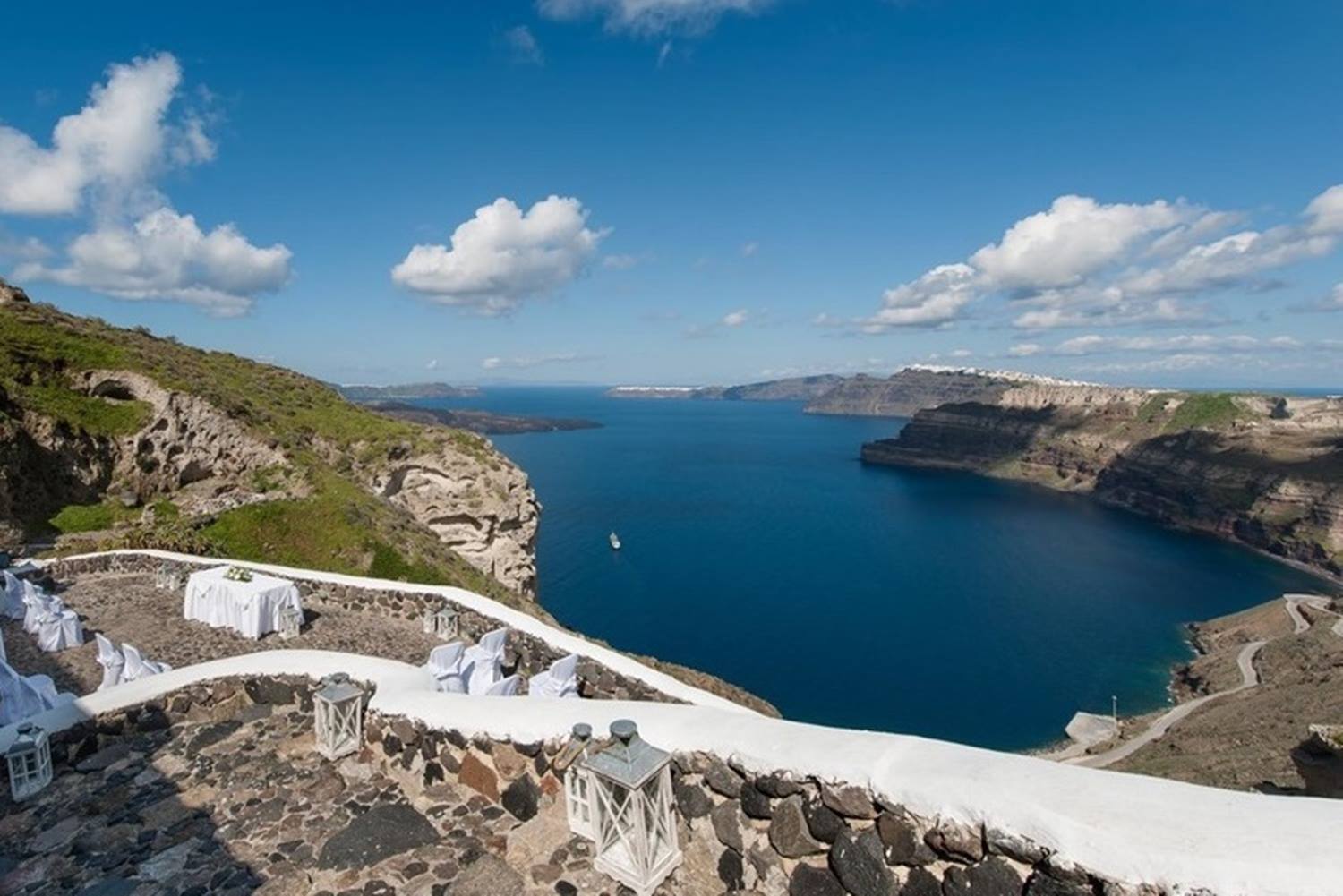 the view from winery facilities Venetsanos
Visit volcanic islands of Nea & Palea Kameni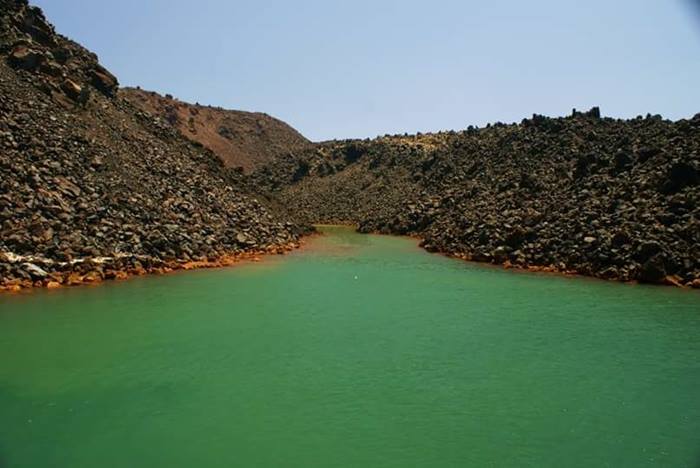 Almost everywhere ,you can get a ticket for a cruise to mid caldera volcano islands of Palea and Nea Kameni (in Greek means burned). Departures start from FIRA  port ( gialos ,down from the capital through  cable cabins) and OIA port( ammoudi).
You can swim if you like  on the stop  of boat in Palea Kameni where are the hot sulfur springs, and on second stop in Nea Kameni , you can walk very close to the edges of craters.
a tip for sailors : Fishermen and captains  always  prefered to make a stop for a day or two and moorage  over the poisonous waters over the volcano. Thus cleaning  the hulls of their vessels from all micro-organisms and oysters.
You can swim in hot sulfur  waters !
They say that Water from these springs  have positive therapeutic effects on skin disease, women's diseases, asthma, neuralgia, arteriosclerosis, rheumatism and shoulder, neck and wrist pains;
Visit to Thirasia island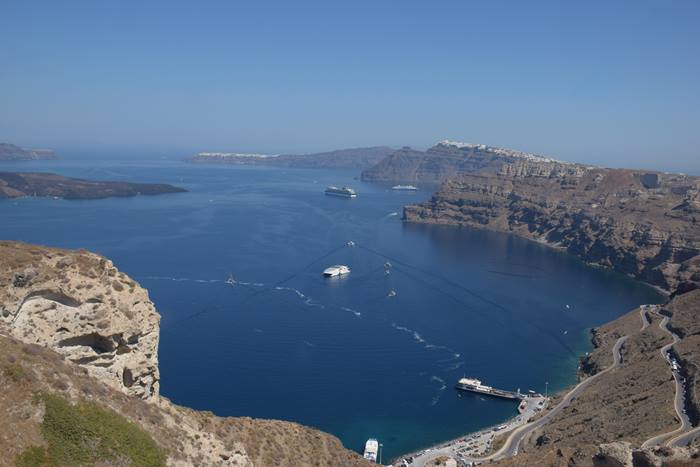 Thirassia island viewed from Santorini
Thirasia belongs to Santorini island complex and is opposite of Oia. Its today's shape is what was left from  the splitting of once round island and the enormous  eruption  of volcano crater in the middle  ( 1.500 B.C.)
this  is beautiful but not very popular island, worth to visit and even stay overnight.
You can  arrive at the small port of Korfos  ,by  line boat (cheap) starting from commercial port of Santorini  -Athinio , or from opposite port of Oia's  – Ammoudi.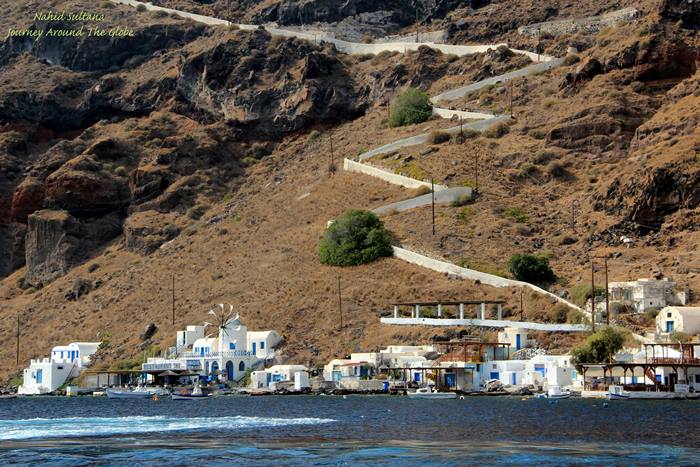 To taste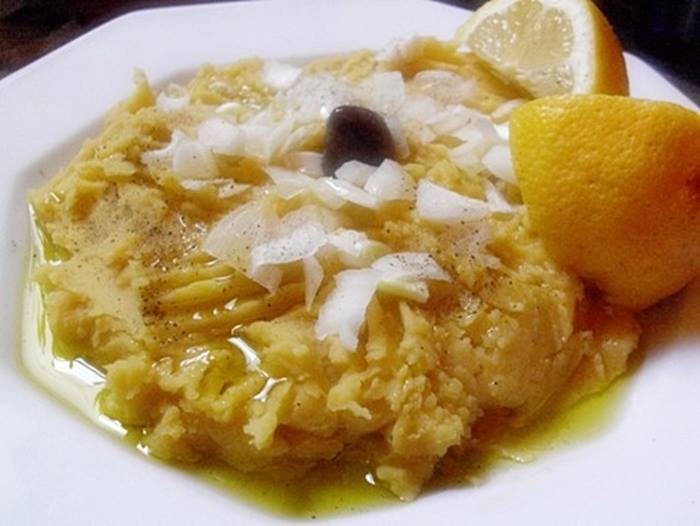 smashed Fava beans with tomatoes and onions ( called pantremeni -wedded-  because  for this plate,  on preparation, you  put together  cooked fava beans with  lots of onion and tomato into olive oil pan )
"Santorini Fava", is a "Protected Designation of Origin" product that comes from the plant "Lathyrus Clymenum L." that grows exclusively in Santorini for more than 3,500 years.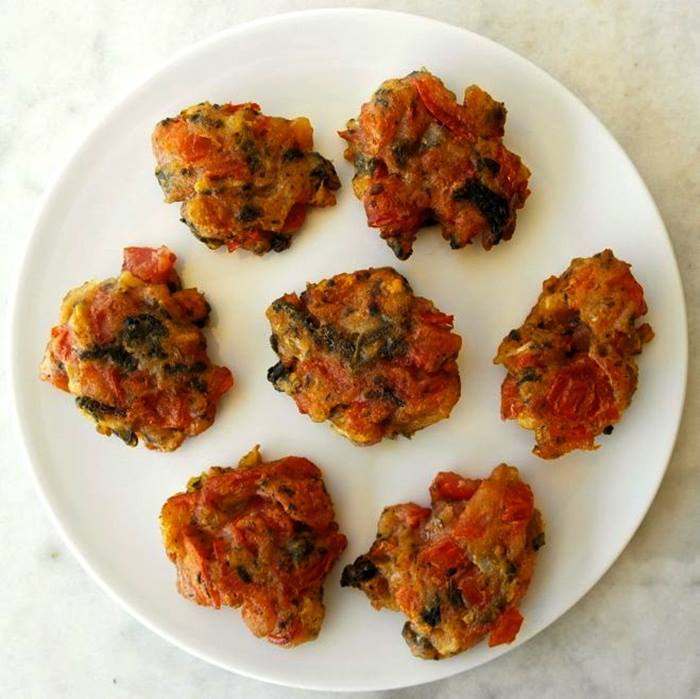 Tomatokaftedes (tomato balls) :  Santorini is famous for  tomatoes produced on volcanic soil for their particular taste. A delicious plate  is tomatokeftedes which  are balls made from tomatoes,onion,mint,flour  and then fried in olive oil.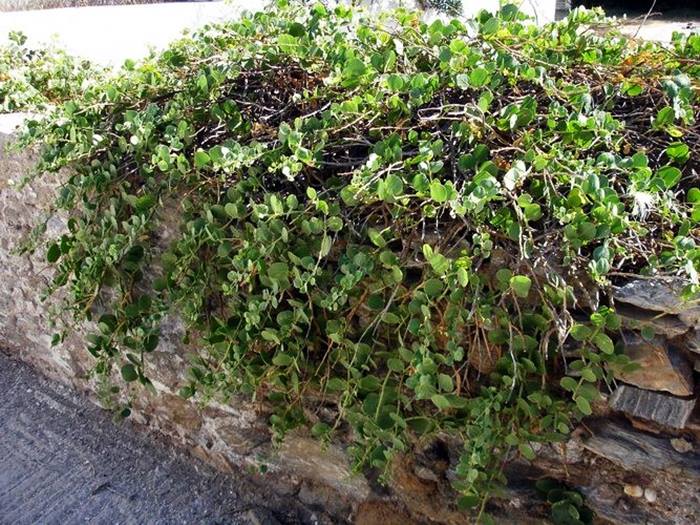 Capers and Capers leaves
is a small wild plant you can see everywhere in Cycladic islands, especially on dry fields and on the rocks.
Delicious adding for pizzas, greek salads.