Practical tips in Crete, small guide
Practical tips in Crete
Suggestions  for  when you are in Crete
Practical tips in Crete, small guide
Local music and dances :
For practical tips in Crete, small guide     Look at the electric posts or trees in each village square. Usually there are announcements with photos of musicians advertising local festivals where there is always food, music and all night dancing! Wherever you find a wedding, do not hesitate, join the fun. You will be welcomed and will definitely eat and drink wine (sometimes by polite and forced invitation).
Personal Security:
You can feel secure in Crete. Although many immigrants came and work in the island , rarelly create a problem for locals or foreigners. So children are always and everywhere wellcome, loosing a camera or credit card is usually reported to the owner by some local person who find it. A lonely woman walking in the streets doesnt have any bother.
Driving in Cretan roads:
If you can not drive like a Greek ( eyes closed and full power ), use the extreme right side of the road. and you are safe in whatever slow you drive – drive over the long continuous line on the right side to allow space for others behind to pass you safely.
See our proposed driving excursions around :self driving tours around Chania
Your Health care :
In case of a minor medical problem , you can visit for free, HEALTH Public Centers near major villages (in Greek- KENTRO IGIAS) In case of a very serious problem , drive directly to main HOSPITAL of Chania (indication panel on National main road outside the city-direction to West of the Island).
Unique ! Go to Church!
Wake up early Sunday morning (from 7 am to 10 am ) and go to a Greek church. In small cities or big villages, you will experience a completely different religious ritual, coming straight from the begining of Christian religion, with many elements of ancient Greek rituals , antique theatre, and chants in Bible's original language .
Street markets in Crete "Laiki"
Must visit and buy while in Crete, when you are in major cities of Chania and Rethymnon , ask people for "Laiki". This is an open popular market wich is every day in a different neighborhood. There ,are together all producers coming from mountain villages and sell vegetables-fruits-the famus cretan cheeses-honey-and mountain teas . There is lot of colour, and ambience .
Rent a car by local and friendly agency :
All cars to rent in Greece are by law , new models. Prices don't vary much according the agency. Rental prices (unlimited kms -all included ) can start in small agencies ,from 140 euros/week in low season and 150 euros/week for high season. Make an inquiry  for Car rental  at  https://www.myhousetorent.com/crete-rent-a-car-at-airport-local-agency/
Off-Beat Chania Destinations:  
Go to beach
All sea front in Greece is free for the public. Therefore cannot exist private beaches (even hotels). Most beaches in Crete are accorded with EU blue flag witch means (pure water-free showers-cleaning-WC etc).
You can eventually rent if you wish , a Sun shelter and a long arm chair for 5-7 euros/day. You will find also a small cafe for a toast and drinks.
Taverns-restaurants
Usually restaurants and taverns always display inside their place ,
a large window with all plates available to customers. So, prior to have
a table by the sea side ,go inside ,give look on what is available and then you are more informed about delicacies ! *
*Demand local wine of the restaurant. Usually is good and cheaper than bottled !
Short guide for tasting in Crete
TURKISH COFFEE GREEK COFFEE
Greek coffee (originally called Turkish coffee -as everywhere else in Eastern Mediterranean ) Is the real original form of coffee making , mixing baked- grounded seeds with water and then boil the mix .
You can order in a cafe without sugar (sketo) , or with a little sugar ( metrio) or sweet ( gliko).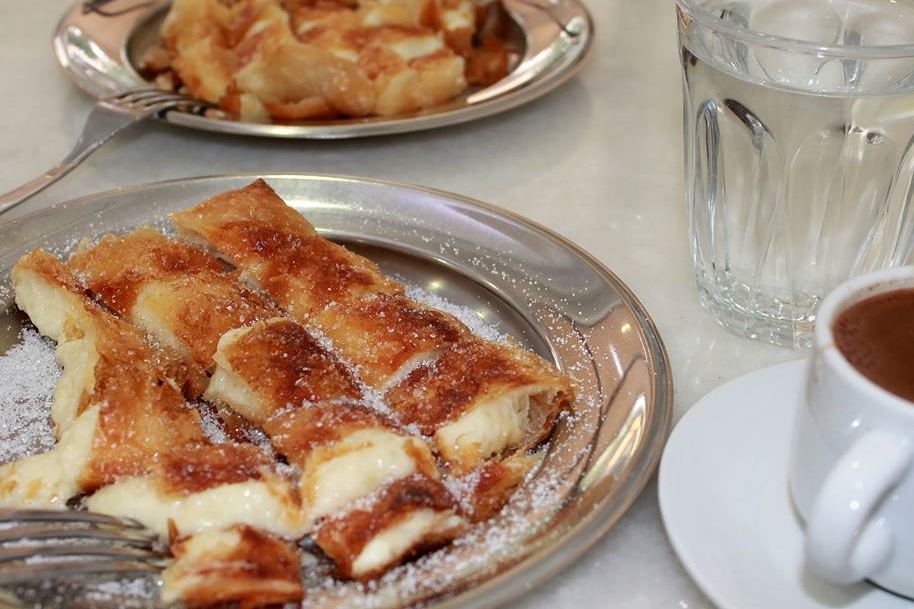 BOUGATSA
When visiting Chania , try to find the place ( near the main market) where is served this unique delicacy of pie with fresh light cheese.
Just been baked and served immediately. Look at iordanis.gr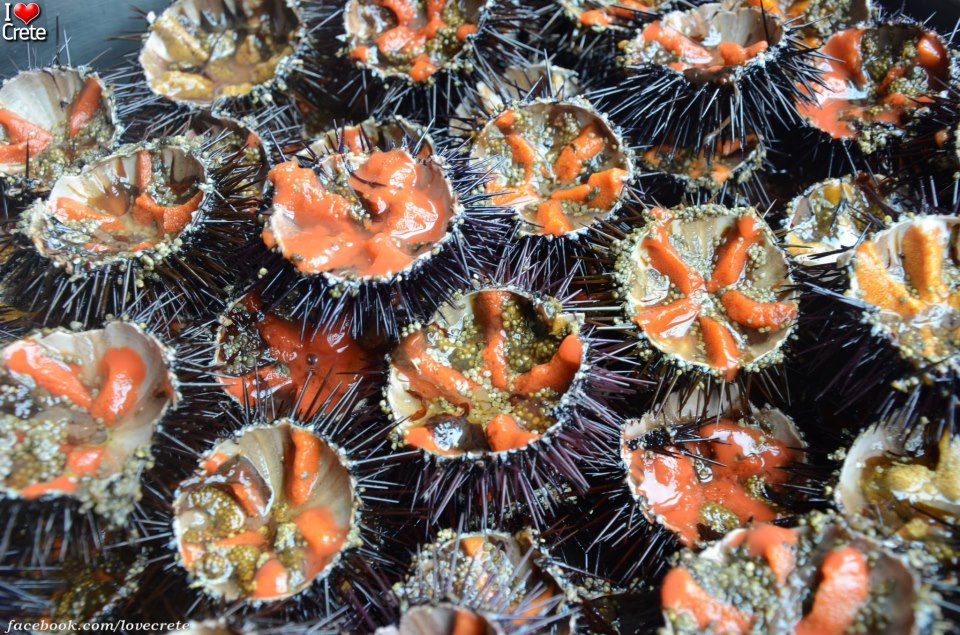 SEA URSINS SEA URCHINS
A real find for special people. This delicacy found in most sea food restaurants in Crete , is a salad with Yellow egg segments of sea urchins served with olive oil and lemon juice.
Taste it over sliced bread !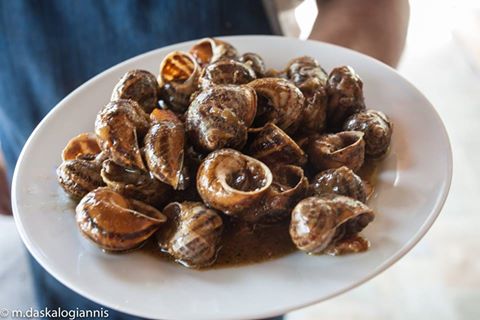 Snails !
Collected on  mountains of Crete, fed with all wild aromatic plants is a delicious plate! Especially when friten with rosemary and vinegar.