CHANIA old port boat rentals
 Chania boat rental
All boats up to 30 hp do not require a boat driver's license, you must have a little experience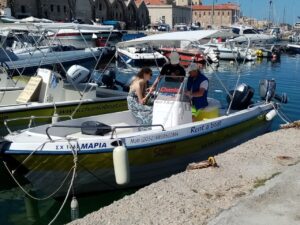 Before you sail, we will provide you an introduction lesson , on boat and navigation elements.
Plus all the safety instructions and equipment you are going to need for your trip.
1) all boats have a 43 liter fuel tank + an additional auxiliary tank filled with 10 liters of petrol
2) the driver drives the boat himself, alcohol and drugs are prohibited
3) we do not approach less than 50 meters from the shore, we look for rocks protruding from the water
4) when tying the boat we drop the anchor, when it goes to the bottom we leave 6 meters of extra rope and then tie
Before dropping the anchor, make sure that there are no large rocks below and that it is not too deep, (i.e. you must see the bottom clearly
After tying up the boat you pull on the anchor rope to make sure it has slackened sufficiently
Tip : When you want to lift the anchor, don't pull the chain..move the boat 2 meters, stop the engine and pulling will be easier. Also !  by this way  is not in danger of climbing a rock!
During the rental and if the weather immediately starts to deteriorate you must return immediately,
If bad weather occurs during the rental, money is not returned
Do not rent a boat if the weather report exceeds 4 Beaufort with a tendency to strengthen
5) You must have an ID or passport with you to be able to take the boat, ID or passport is returned to you upon delivery of the boat
To get a price, fill the form below :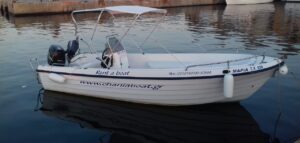 Our boats are new vessels, and passed all inspections….
Prices : For 1/2 day trip 100  euros  + plus carburant spend (insurance included)
Hidden beaches to reach by boat around Chania:
Just north West of Chania port, is the small island of LAZARETA. You can drop your anchor and swim to a very nice and clean beach. Take with you water !